The perfect reading list!
A set of SIX 8-page minicomics starring the world famous Amazing Cynicalman, America's laid-off superhero! You'll laugh! You'll cry! You'll scratch your head and wonder what's the point! Only $3 and shipping is FREE so click now and get it over with!
CYNICALMAN #15 Special Mask Issue!
-
CYNICALMAN #14 Space Race In Your Face!
-
BOARD OF SUPERHEROS™ #4
A thrilling tale of Cynicalman at his
day job!
-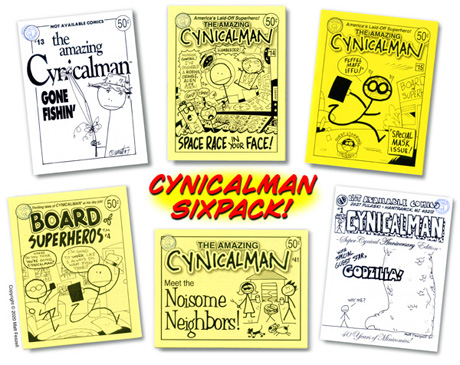 CYNICALMAN #13 Cynicalman almost goes fishing but instead almost goes to the movies!
-
AMAZING CYNICALMAN #41 A cynical sampling of Amazing Cynicalman newspaper weeklies!
-
CYNICALMAN #1 Festive 40th anniversary reprint edition of the 1980 Cynicalman minicomic that started it all!
Cynicalman
Six-Pack
$3.00 FREE shipping
The Amazing
Cynicalman, Vol.1
The first two and a half years of the Cynicalman newspaper weekly from
the pages of Orbit Magazine,
Metro Times and others.

The Amazing
Cynicalman, Vol.2
All the Amazing Cynicalman weeklies
from 2008 to 2013 - as seen in the pages of
the Hamtramck Citizen, the Review, and
Flint Comix & Entertainment newspapers.
Cynicalman
T-Shirts
Now available in roomy 2XL!
Suitable for every occasion!
High quality black Gilden T-shirts
with a white, silk-screened
Have A Day design.